We're not just for your lunch anymore! Have us cater your wedding!
Planning a wedding catering?
Planning a wedding is finally over. In the age of DIY and backyard events that trump fanciness and formality with charm and class, there has never been a better, more convenient and reliable fit than Food Network Season 5 Champions The Middle Feast Food Truck. Sure, we may not be providing "cocktail service" and "chocolate fountains", but we do promise to deliver options that are sure to please everyone from the carnivorous fanatic to the discerning vegetarian and everyone in between. Your wedding catering should be the least of your worries on your special day. Let us do the work for you.
Let us bring the kitchen to you!
Good food is hard to come by and Great caterers is even harder, but we have what you've been looking for! Let us work with you to plan deliciously affordable meal without all the fuss of shopping, prepping, cooking, & serving. From all of our marinated meats to our signature sauces and so much more, your catering was just made much easier from start to finish. Better than a catering company, we bring the kitchen to you.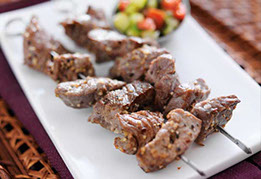 ©Copyright The Middle Feast. All Rights Reserved.
Website Designed by N9NE25 CREATIVE